·
PRC & SSW Administrator
Discussion Starter
·
#1
·
Posted by Steve, aka Slane01...
Okay, Love Cooking....almost like Rangering. This past year I finally broke down and bought a ceramic BBQ Grill/Smoker called the Big Green Egg. It will cook darn near anything. It is perfectly suited to searing steaks at 700 degrees, or doing a low slow smoke at 200 to 250 degrees for 30 hours. It uses Natural Hardwood Lump Charcoal and burns very efficient. It will cook well over 30 hours in a low slow smoke on one load of Charcoal...Approximately 10 lbs.
I have looked at this grill/smoker for about 8 years and I finally bought it this year. It cost more than the stove in my house :shock: really needed to justify that to my better half. Anyways, after the first few cooks, she did not want food off the stove in the house :mrgreen: I use this weekly and have burned approximately 300 lbs of charcoal since July (neighboors thought I was nuts having a Pallet of it in my garage). They make versions of these grills in all sizes from mini grills to the Giant XL version that I have (24" diameter and 205 lbs).
I just did a smoked 14 lb packer cut beef brisket and 8 lbs of pork butts for sliced brisket and pulled pork a couple of weeks ago. It cooked for 21.5 hours and the temp ranged from 5 below zero to 20 above zero. The Big Green Egg held its temperature very well.
Here are some pics of a NY Strip Steak Cook
I did earlier this summer.
This particular cook is probably not really a Trail Cook...but it sure was good. I had a bunch of jealous friends this summer when I sent them a copy of my Virtual Dinner Invitation 8)
Two Freshly cut New York Strip Steaks from the Butcher Shop

2" Thick

Approximately 29 Ounces Each....No Vegetarians Here 8)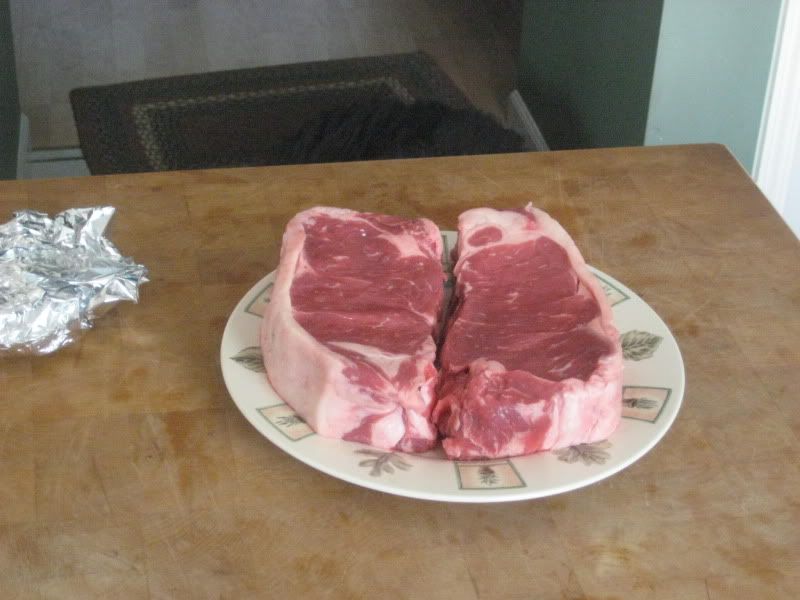 Now That is a Slab of Beef....Feel like Fred Flintstone ordering some Brontosaurus Ribs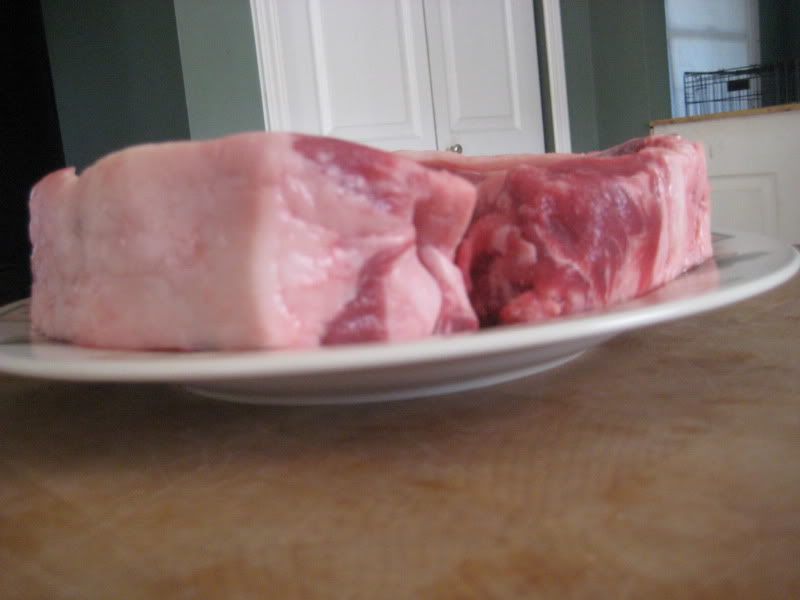 Getting Ready to Prep the Cooking Tool....This is our New All Purpose Smoker, Grill, Oven....Its the Big Green Egg!!!
Got the Batch of Charcoal Lit.....Approximately 10 pounds of it in the bottom of the Big Green Egg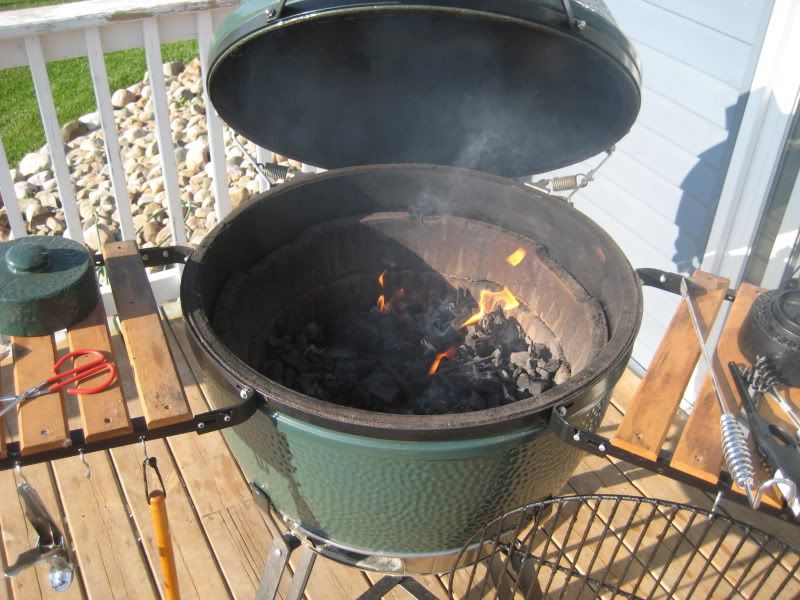 About 5 minutes after the charcoal was lit.....starting up nicely
The Steaks are being Prepped....they have been sitting out for about an hour and 15 minutes to bring up to room temperature
Approximately 10 minutes before going for the initial grilling they were brushed with Olive Oil, rubbed with Kosher Salt and Fresh Ground Black Pepper and topped with minced Garlic.
Another View of the Seasoned Steaks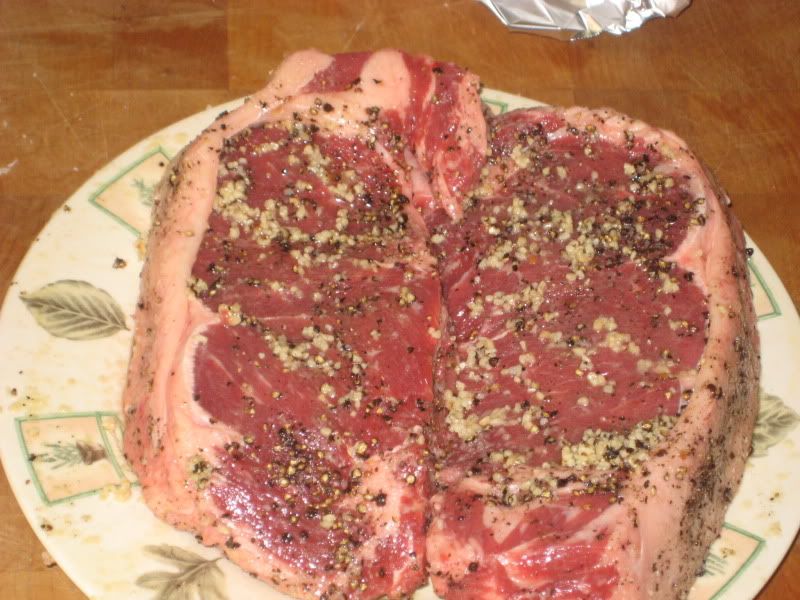 The Big Green Egg is approaching the 700 Degree Searing Temp......Almost Ready to Sear the Meat :mrgreen: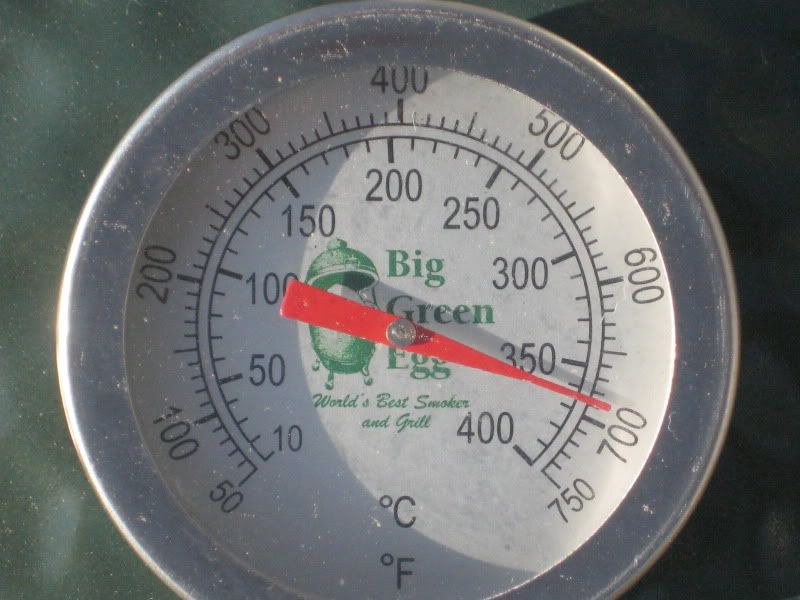 A View of 700 degree coals in the Chimney of the Big Green Egg...its pretty hot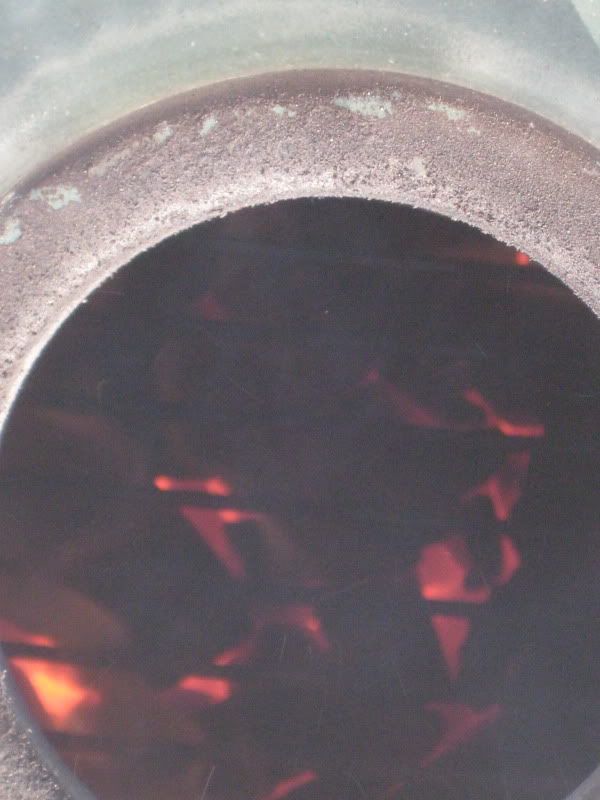 The Big Green Egg is Now at 700 Degrees.....Perfect for Searing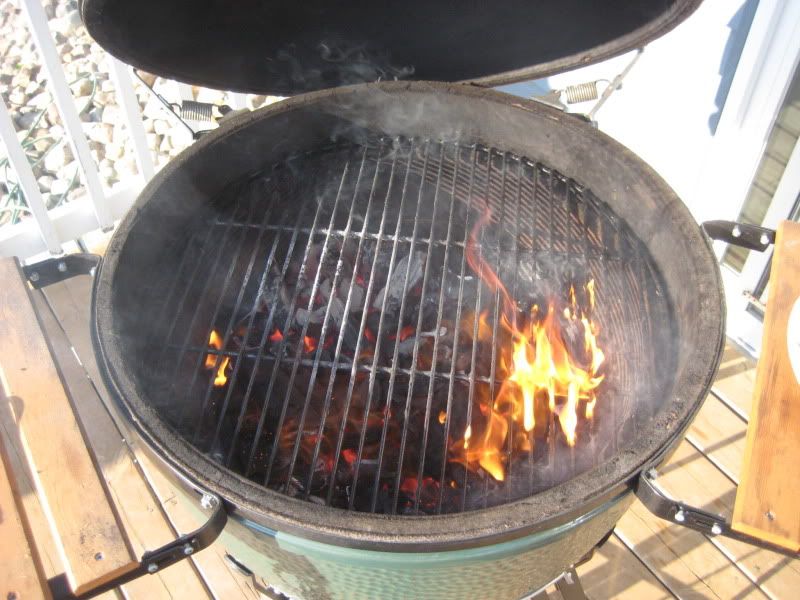 The Steaks are On.....Gonna Sear for 90 Seconds Per Side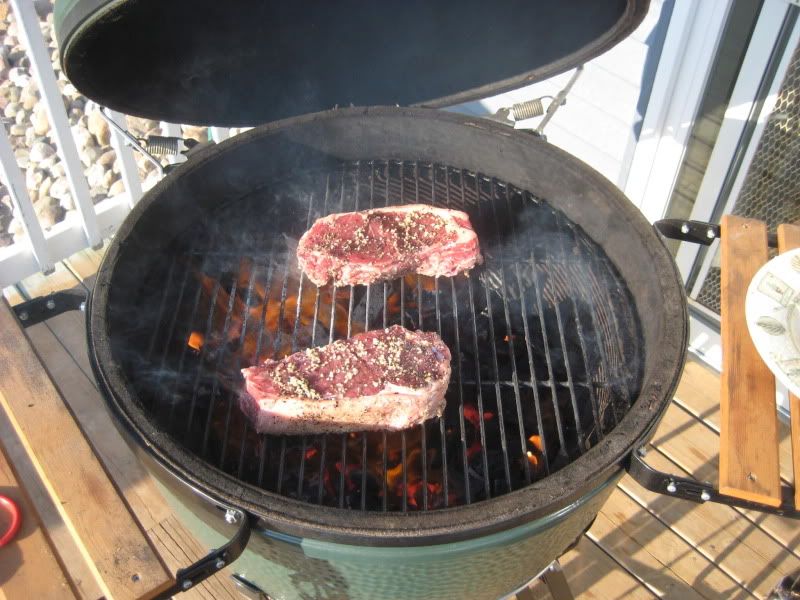 Closer View.....Are you eggcited yet? I know I am a geek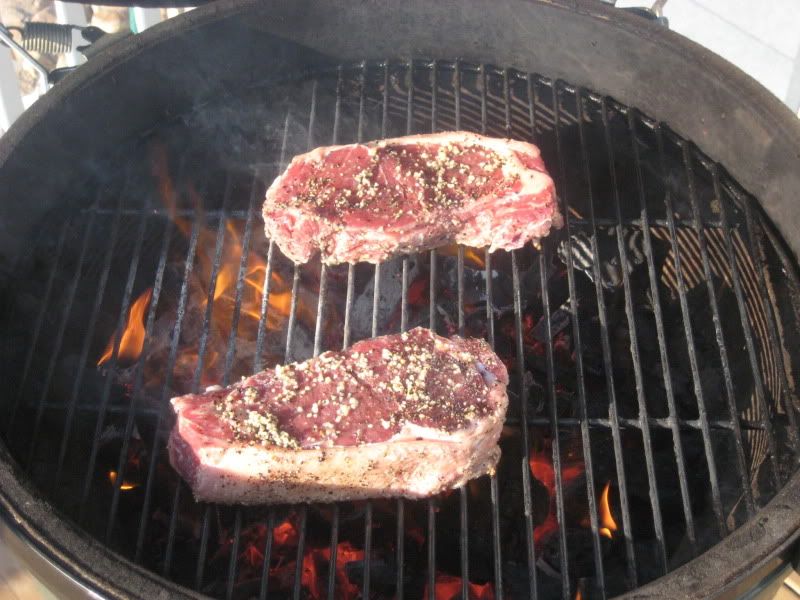 Well the first 90 Seconds are up.....Looks Pretty Good so far....smells very good 8)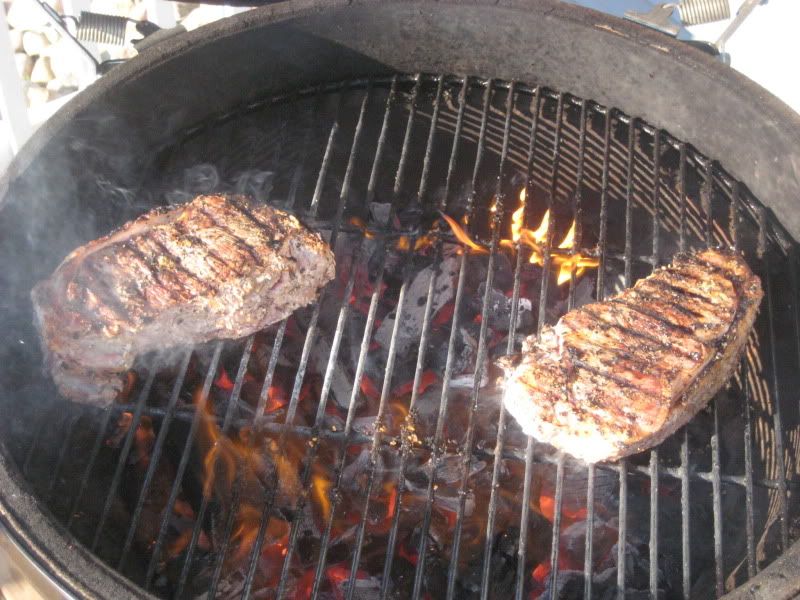 A Closer Look......I am ready for my Steak.....but gotta wait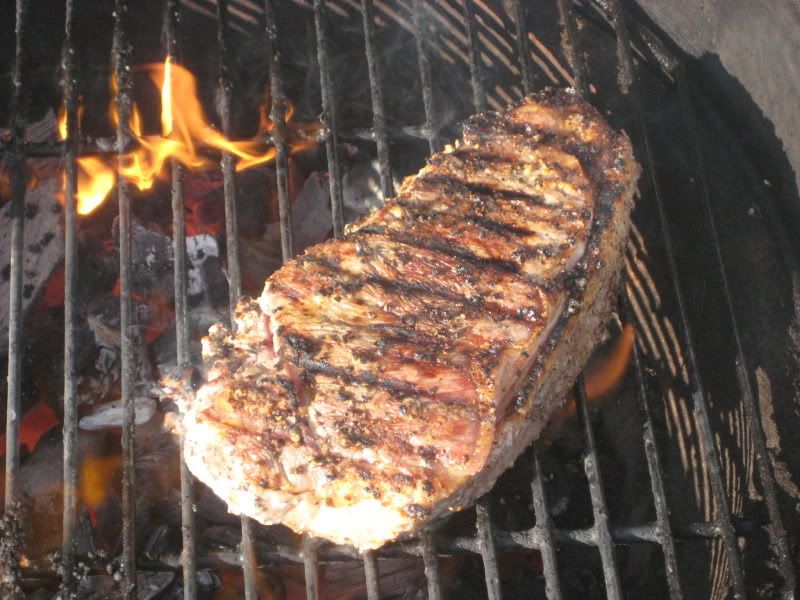 Yup, the 700 Degrees does a Great Job Searing the Steaks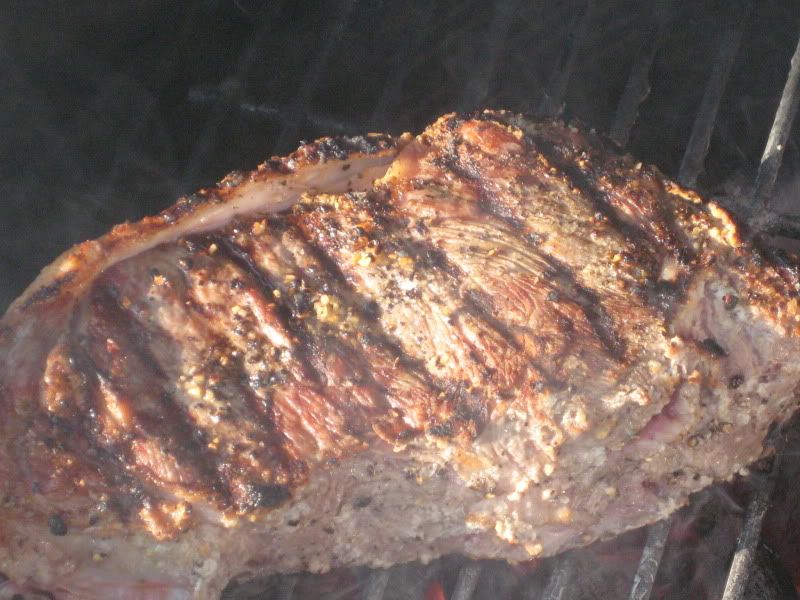 Well, Now I have two NY Strip Steaks seared at 700 degrees for 90 seconds on each side.....now it is time to let the steaks rest for approximately 25 minutes while the big green cools down to 400 degrees. It also lets the juice inside the steak re-distribute itself through the meat before the final cook....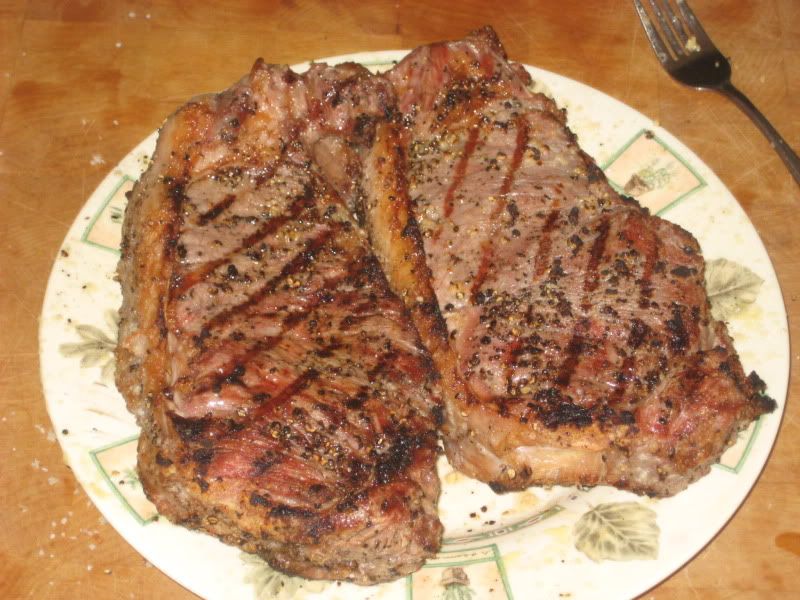 The Steaks went back on the Big Green Egg for the Final Cook....one steak roasted for about 6 minutes per side which brought the steak to a rare/med. rare temp., the other steak roasted for 8 minutes per side for a med. rare/medium temp.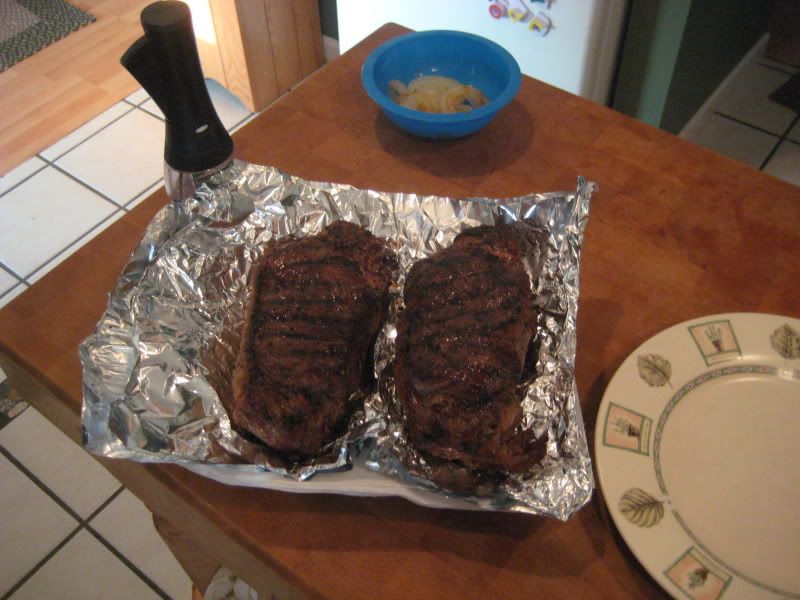 The steaks have now rested again for 5 or 6 minutes to let the juice re-distribute back through the meat again....The steak has a perfect seared and seasoned crust....smells awesome....and time to cut
Well here it is.....However, this is actually the leftovers. The steak was full of all of the juices and was flavored extremely well.....I am stuffed.....I must have only finished about 16 oz of the 29 oz steak....I was able to eat our leftovers .....I hope you enjoyed one of my virtual dinners from the Big Green Egg...I know I am hungry again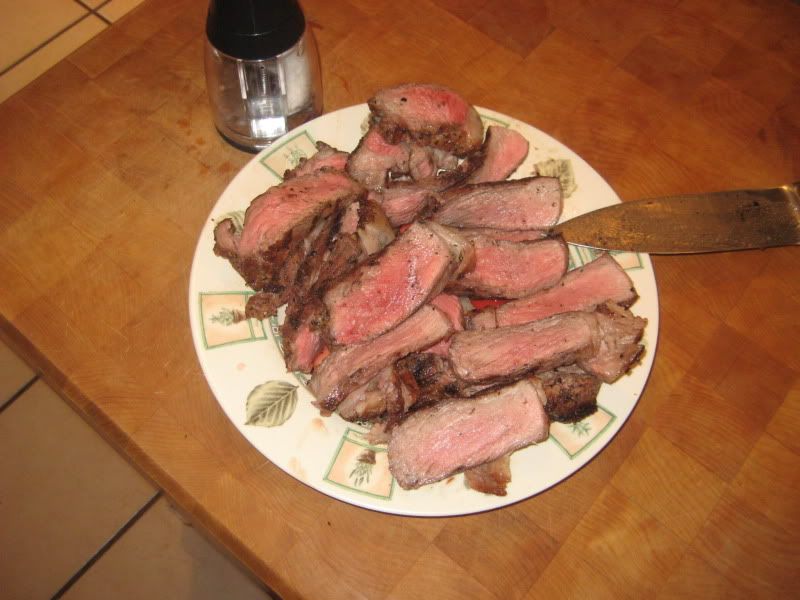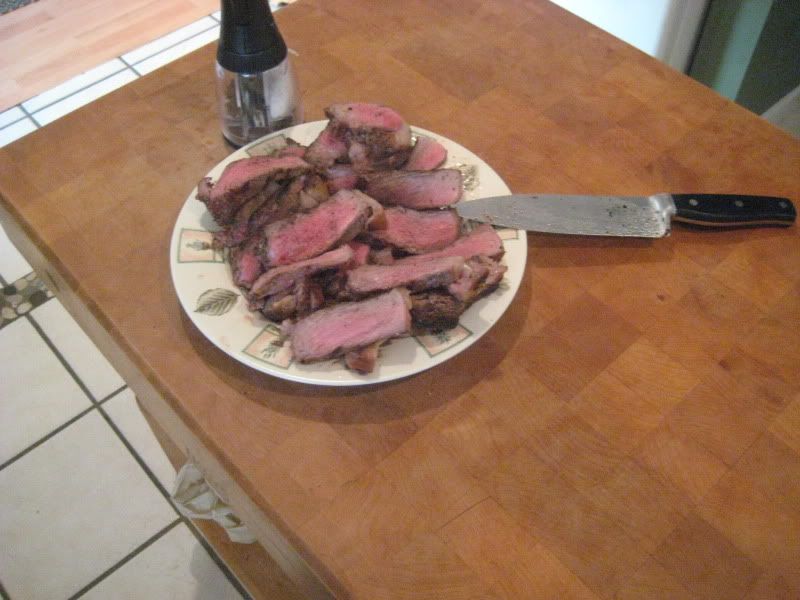 The End