Discussion Starter
·
#1
·
If you have a GM Duramax truck then these items pertain to you.
I have the following items on SALE
Genuine Donaldson P610875 PowerCore Air Filter for 2006 to 2009 GM trucks with Duramax Diesel Engine. (Note - This is the oem filter that comes in your truck)
Also have an AMSOIL BMK17Ea Oil Filter By-Pass Kit for pre-2007 GM Duramax Diesels.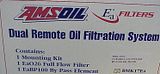 If these interest you or you want additional information about applications to your vehicle, PM me with you vehicle details. Please include city, state, zip for estimate of S&H costs. Only have one of each in stock at Preferred Customer Prices (wholesale). Sorry, AMSOIL policy prohibits me from advertising prices in open forums so you will have to contact me for more info.