Discussion Starter
·
#1
·
Had a small group out on our property for a local ride yesterday. I invited 65welder from PRC to meet someone new. Had a great time meeting new friends. 65welder (Jamie) brought his 09 Ranger XP and also brought along his brother-in-law (Jerry) in his 08 Rhino.
I also invited a friend from work who brought along his dad's 10 Ranger Crew and another friend who brought his 400 Foreman (only quad in the group).
I of course was in my 06 Ranger XP (won't see any photos of it as my wife and I were the ones taking pictures and trail guiding so we were in the front of the pack and moving, when possible)
The day started with a bang, or maybe a POP as Jamie and Jerry blew a trailer tire 20 minutes out from my house (they drove 1 1/2 hours)
So, after they got that changed and pulled in, we were on our way. We started off in the river bottoms of the Sangamon River. Unfortunately, the river is nearing flood stage and had our trails swamped! This is a small field we have to cross to get to the trails.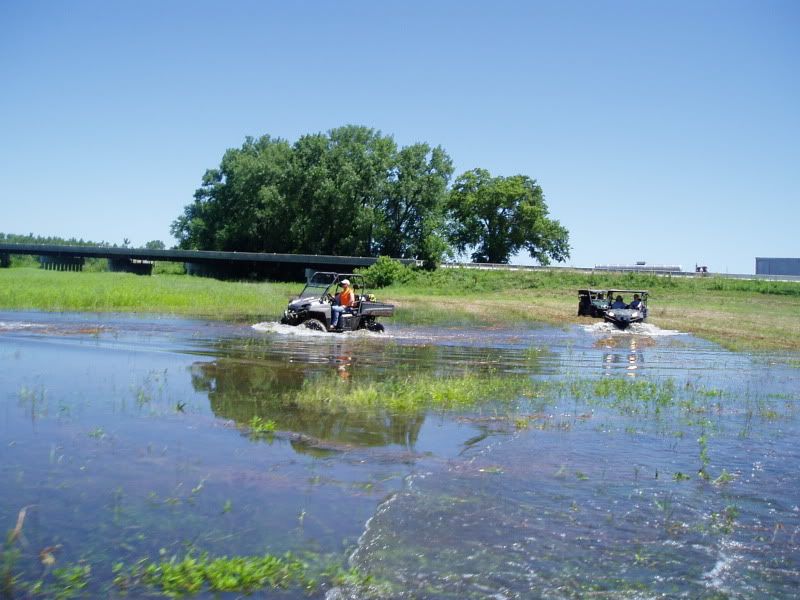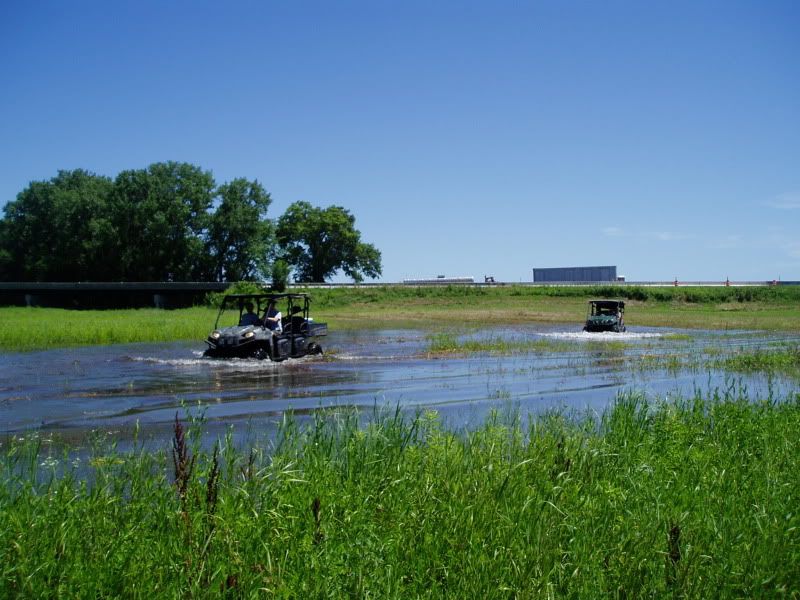 We needed to get under the train trussel to access most of the trails. We had the foreman test the depth-he couldn't even get close to the trussel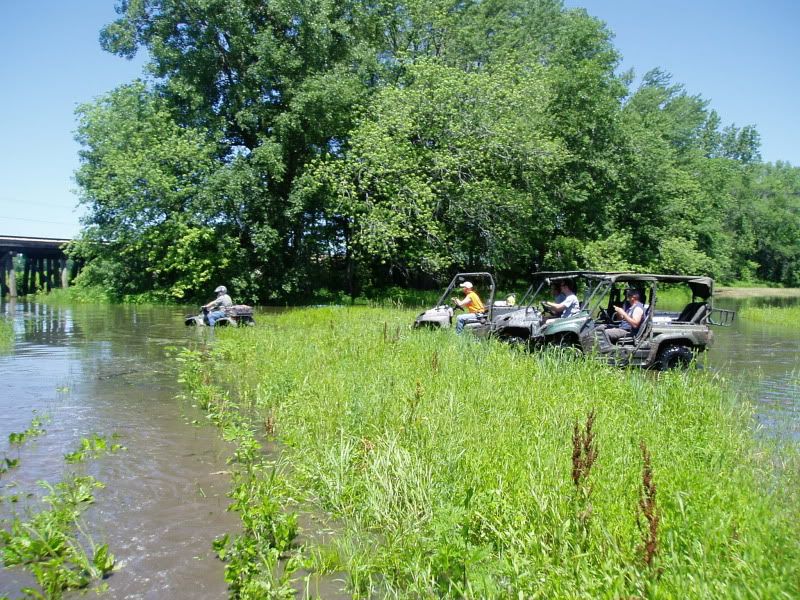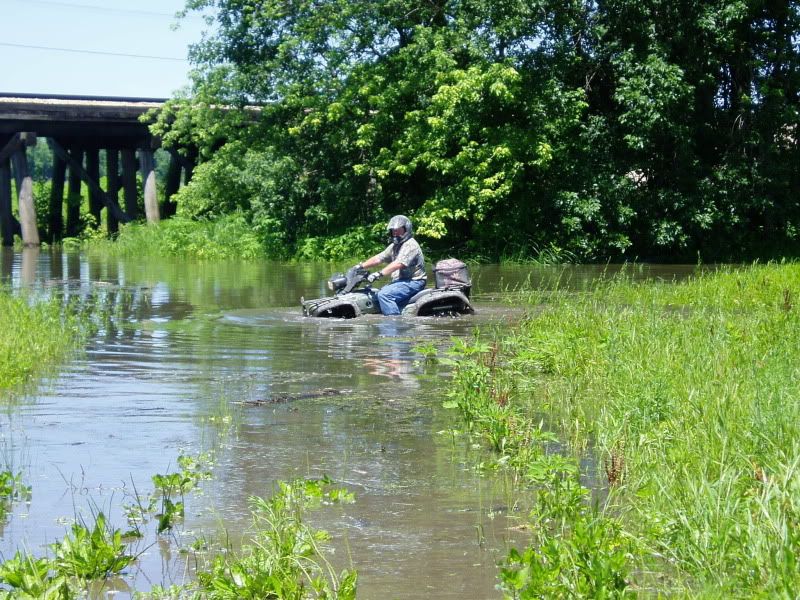 he decided to turn around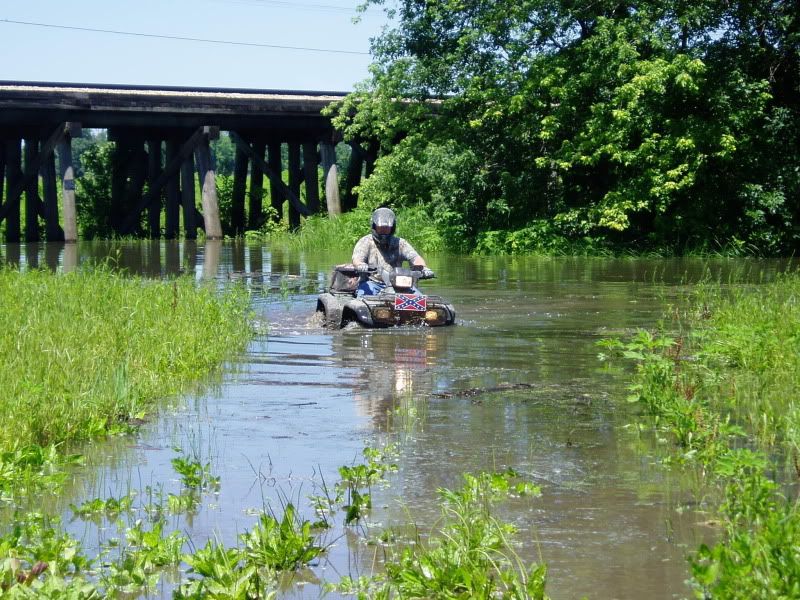 group shot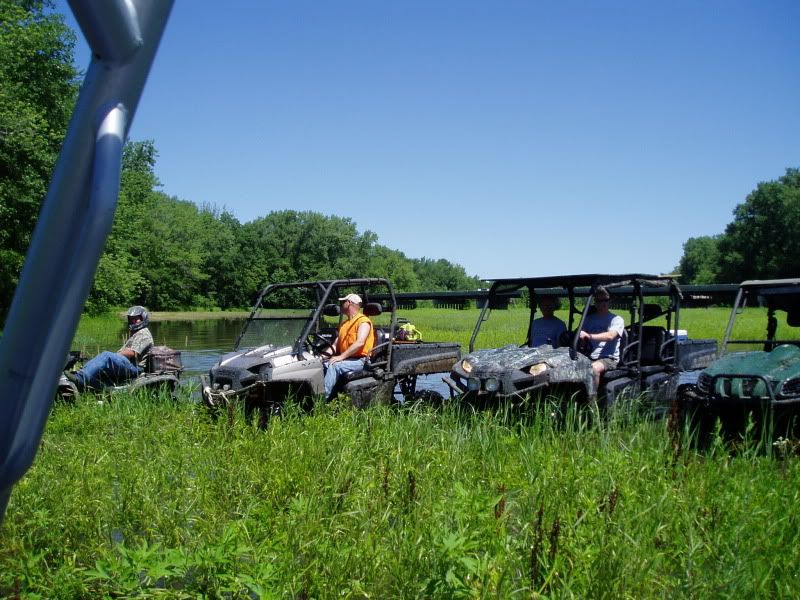 only shot of my ranger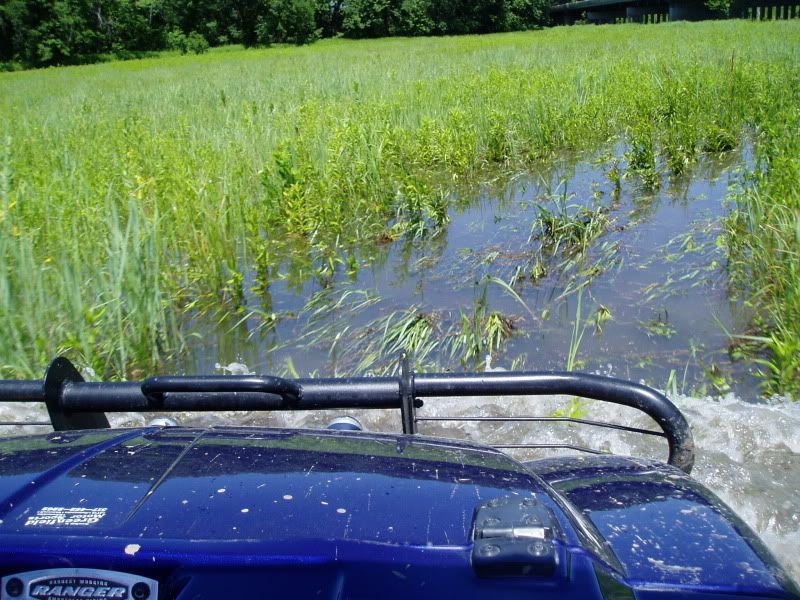 so, we decided to head straight to our other property early and start riding there.
crossing the edge of the pond at the beginning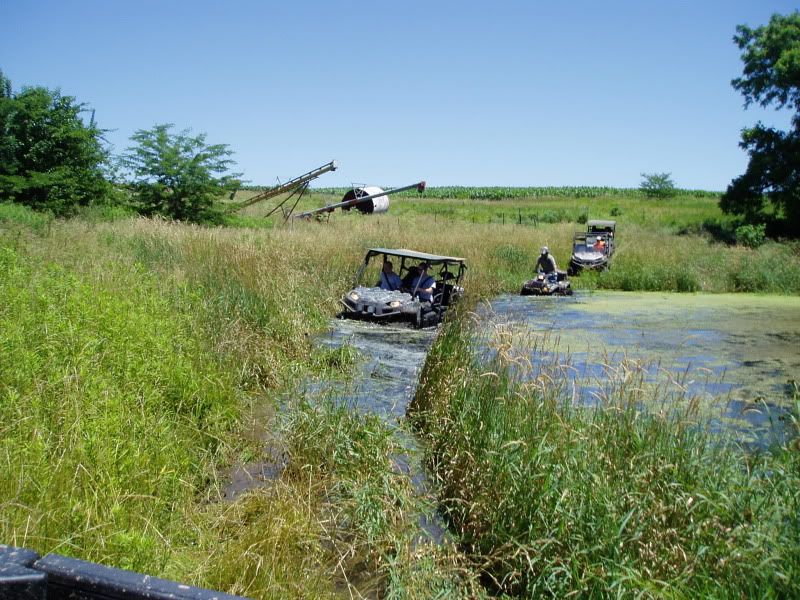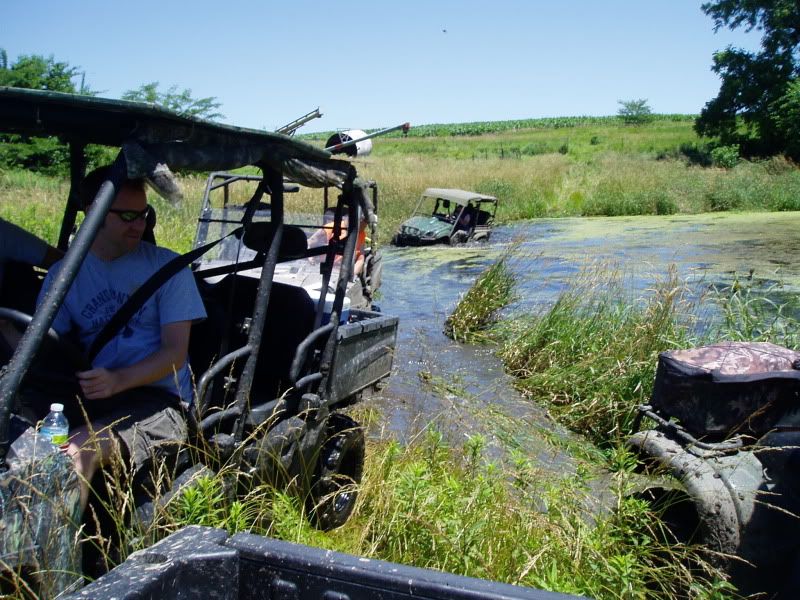 its been several months since I had been on these trails and for some of the trails it was the first time a ranger had been down them
I had to cut a tree up that had fallen across part of what we have named "The Entrance"
oh, I lied, you can see my brush guard and winch cover in this one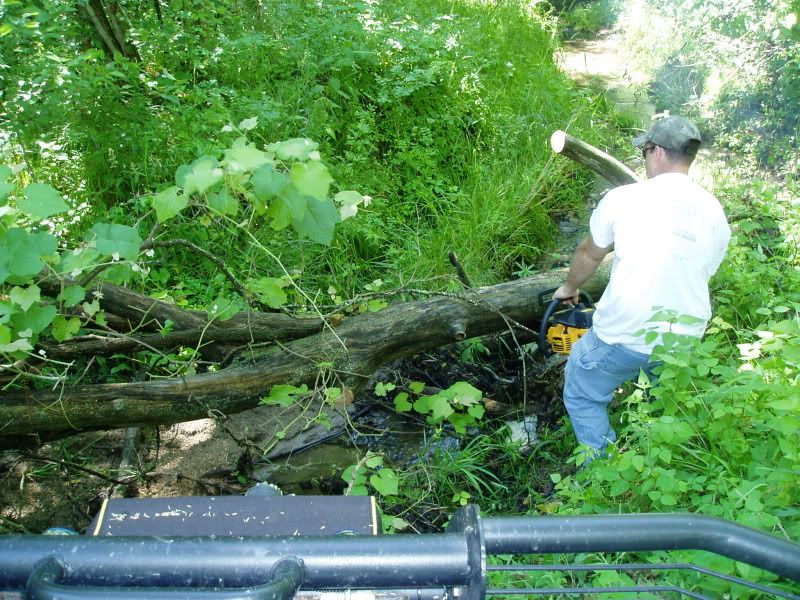 dropping down where I had just cut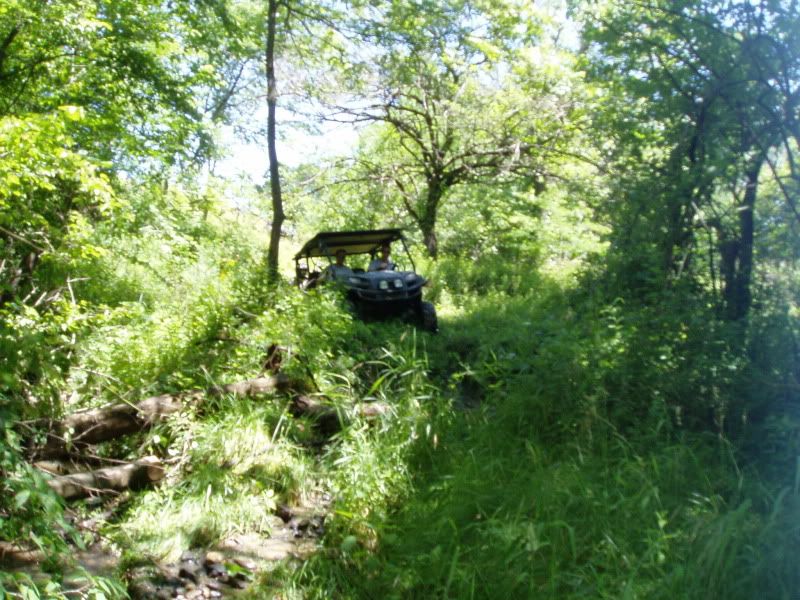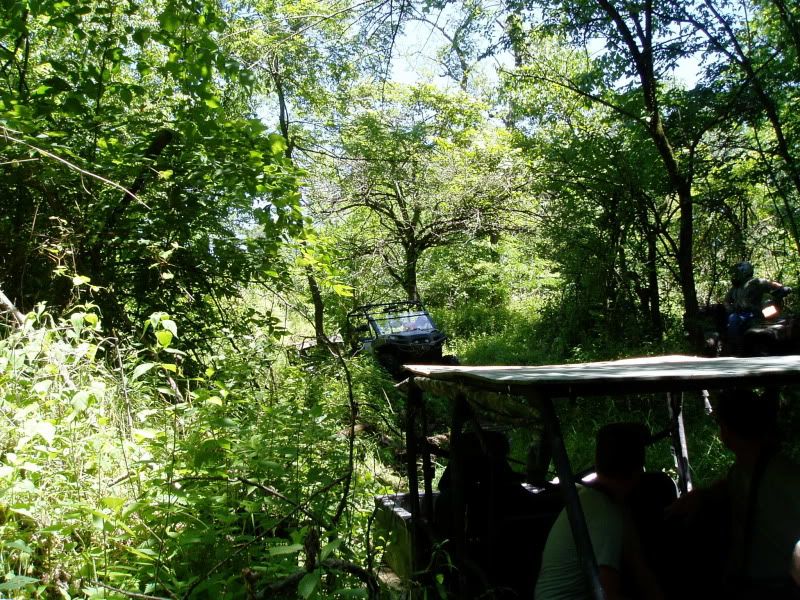 wasn't long until the Crew high centered himself
we tried to push him but ended up having to winch him backwards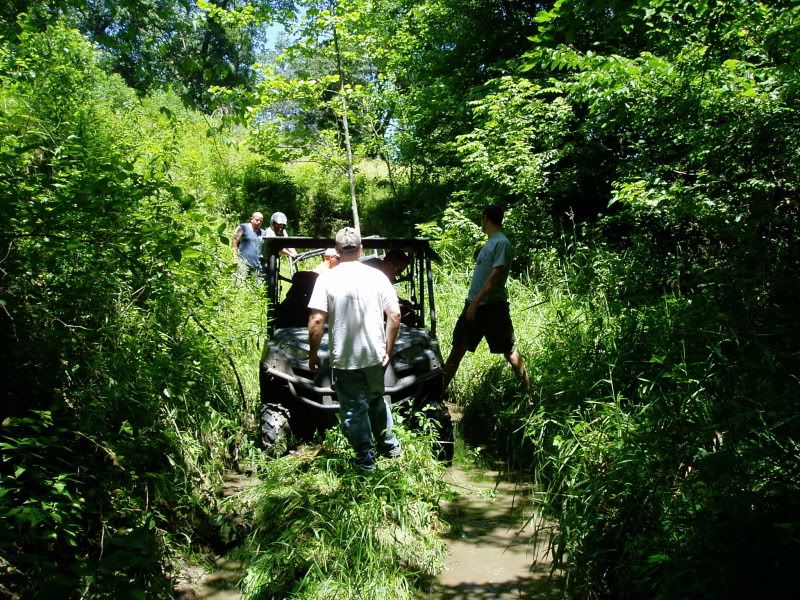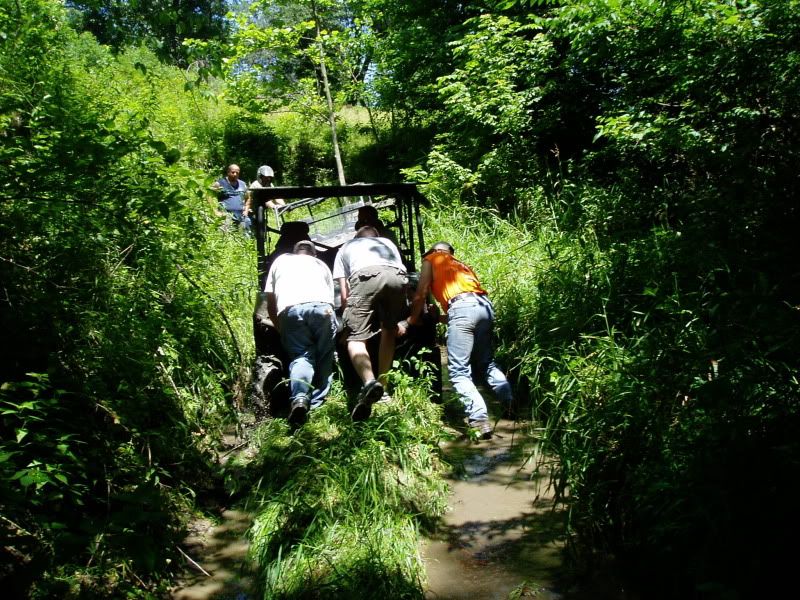 now, shortly after this-about 3 minutes later, things got real interesting. Unfortunately, my wife and I didn't get any pictures as we were too busy.
65welder caught a bad line trying to hop up out of the channel and we aren't sure what happend but the result was his p-side front wheel was turned past where it is supposed to to the right, so much that his CV gave away and there he sat, high centered almost laying on this side with an unresponsive wheel, both drive and steering wise.
Jerry tried pulling him backwards only to bury himself
So, we got the other Rangers out of "The Entrance" and sent the crew back to my house to get a High-Lift and to bring my truck and trailer for extraction purposes.
well, my wife went with to get the truck. wasn't long until my wife called to inform me that the truck was stuck on the dirt road that leads back to us. So, I told her to unhook the trailer and bring it with the crew and we would get it later. About 15 minutes later we hear the truck pull up-after unhooking the trailer, she was able to rock the truck out
So, after jacking the Ranger up, we were able to realign the wheel and remove the broken pieces of cv-joint. Amazingly, the Ranger was able to drive out under its own power and the wheel stayed in position. We parked it and 65welder jumped into the Rhino so we could see the rest of the trails (he broke on the first 200 yards)
The crew dropping into part of the main creek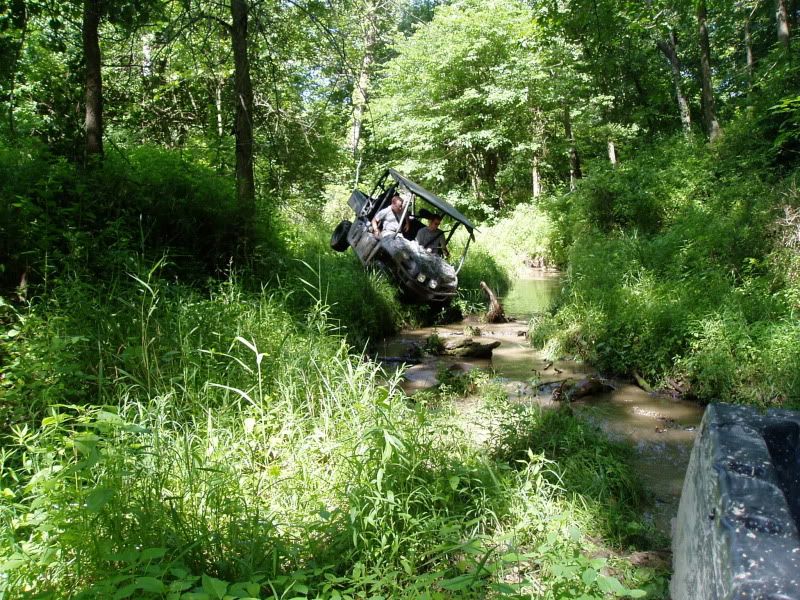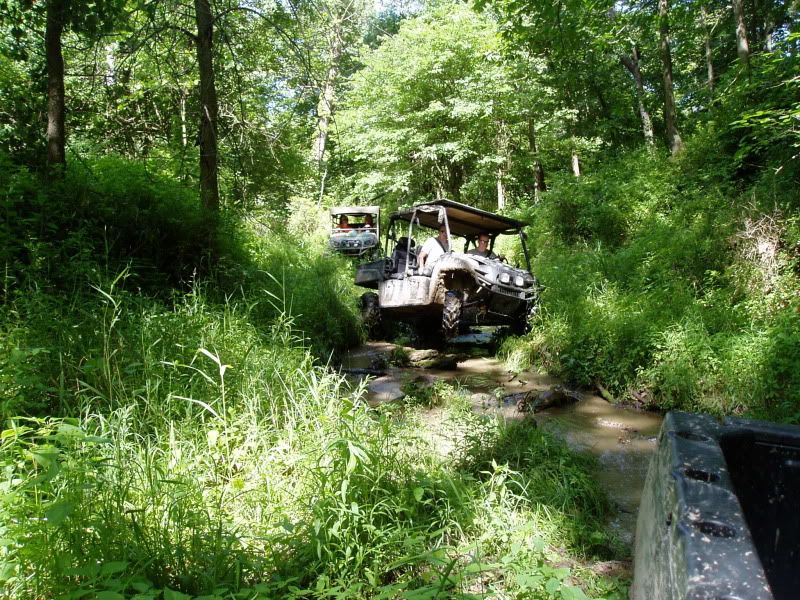 the Rhino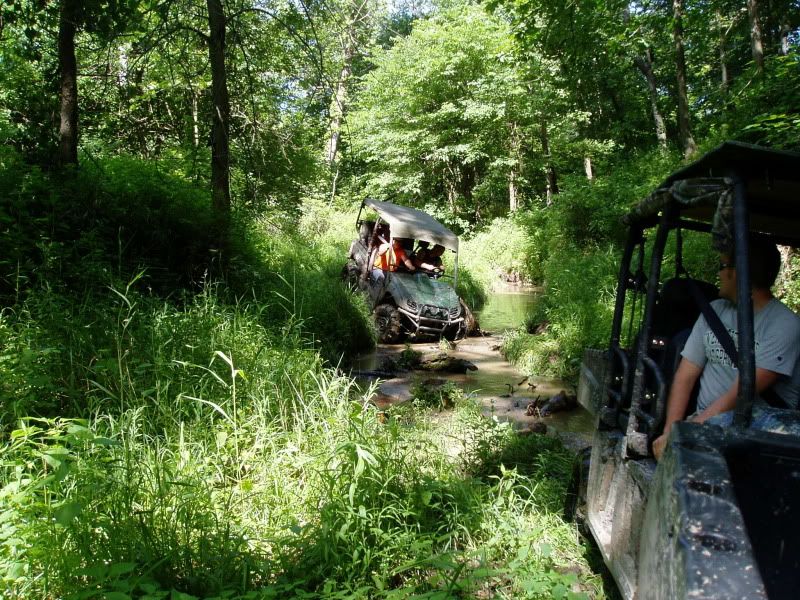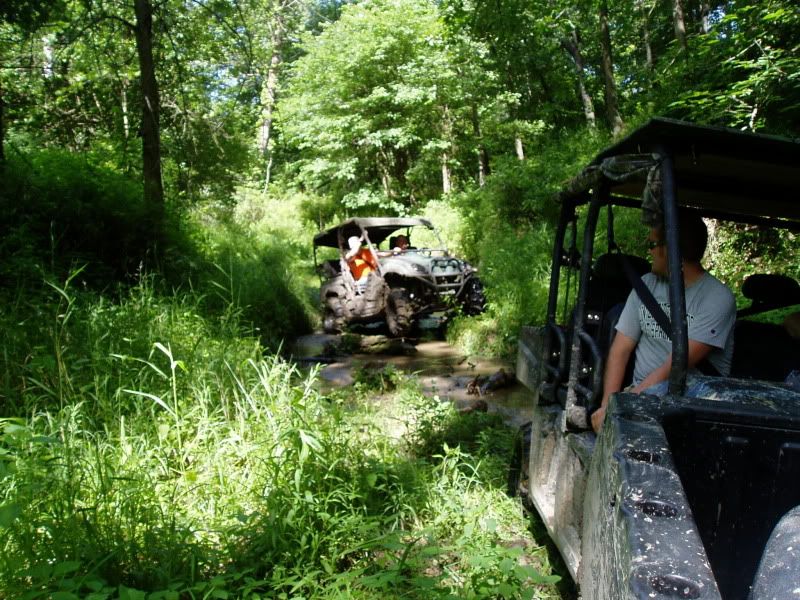 Crew trying to climb a bank-bottomed out on the belly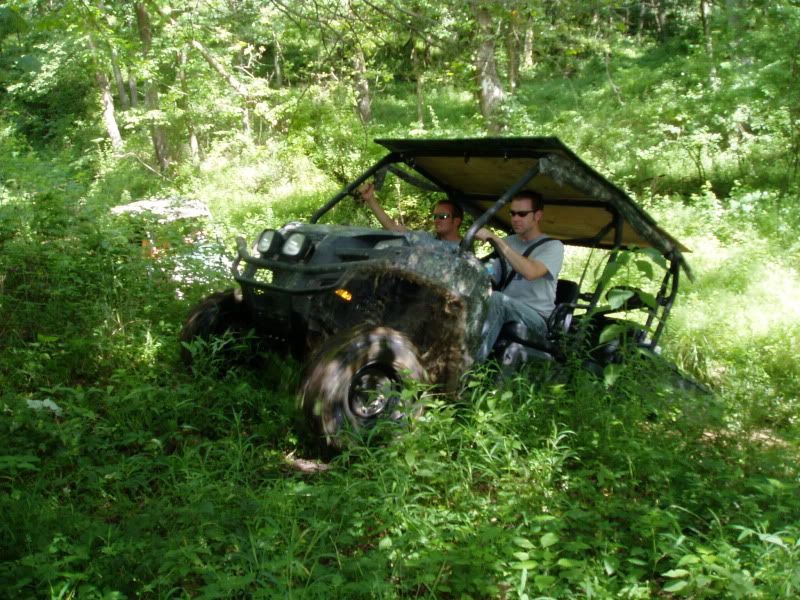 Rhino made it-was moving pretty good by the top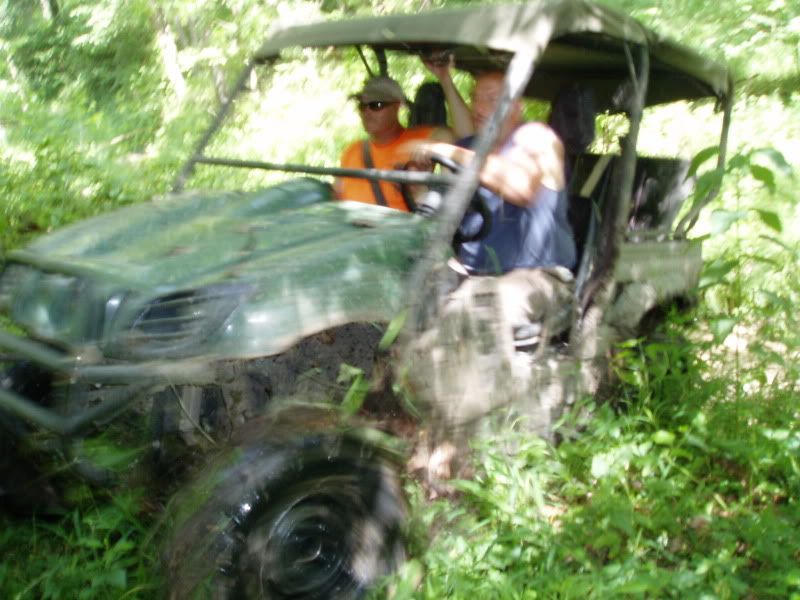 rest of the ride was good. Crew got stuck a couple times. Once was pushed out, once had to be pulled
last crossing out was deep enough that the Rhino drug and bent his luggage rack on the back-Crew bottomed out there too
All-in-all was a great day. Wasn't near as humid as the forecast and if not for the nearly 2 hours of breakdown time, we kept moving well
was great meeting Jamie and Jerry and look forward to wheeling with them again soon!
album http://smg.photobucket.com/albums/v628/TRLWGN1/6-19-2010%20riding/?start=all