·
SSW Rally/Event Director
Discussion Starter
·
#1
·
After a long month of replacing parts, it was time to give her a test run today. We went up on the mountain right above my house in Harriman to a little known place called Mt. Roosevelt which is a 10,000 acre WMA (wildlife management area). Although it is very close and on the same mountain range, the trails fall short of tying into the Windrock system, so it sees VERY little traffic and we didn't run across a single person all day (I rarely do). It also doesn't have much of a trail network (basically just a trail out the crest of the mountain with only a couple of braching trails).....but since it is on the edge of the Cumberland plateau escarpment, there are some scenic spots.
Hunter (or "the boy", as I refer to him) loves to ride. He kept smiling and saying "waywer wide, waywer wide!" :lol:
Here's Olivia trail attire for the day. A skirt, straw hat, and MUD BOOTS....I was cracking up.
This was taken from an overlook called Buzzard's Bluff. It's a large bluff that can be seen from I-40 at the Harriman exit. Although this pic' was taken last winter (notice the absence of leaves), it's a cool pic', so I thought I'd post it. You can see the fog in the valley. We drove up the mountain and you couldn't see your hand in front of your face, then voila.....it was completely clear....no fog at all. The 2 towers you see in the distance are at the Kingston steam plant......where the massive ash spill happened :x (for those of you that have heard about that).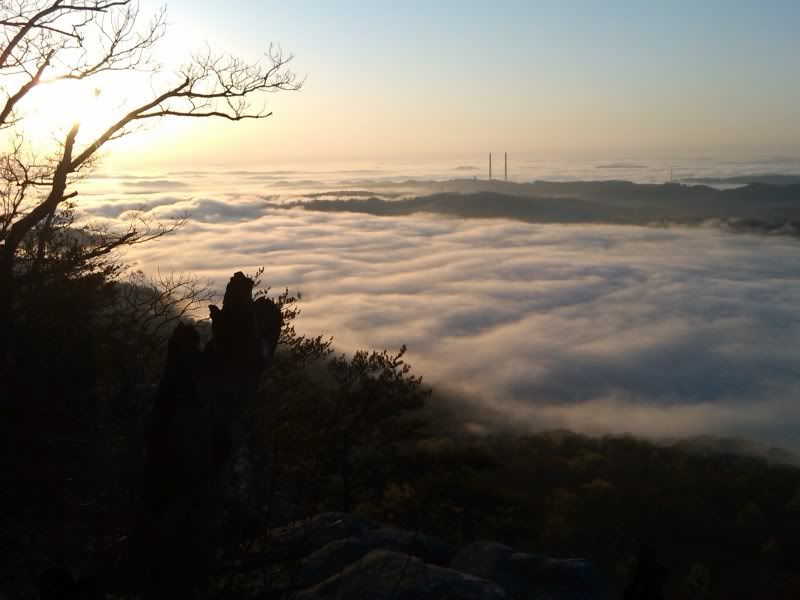 And this is looking the other way......
Anyway......back to today's ride. So I wish that we had the camera out about 5 minutes BEFORE this was taken. I ran through a mudhole that practically SWALLOWED the Ranger. It was up to the seat and surged over it a time or two. This was about 20 minutes into the ride, so me and the wife got to ride around with a wet butt all day
. It even came up in the bed were the girls were at. So we stopped for a quick clean up and play break. You can see the mudhole in the background.
And you can also see the trail I could've easily taken AROUND it :lol: . I swear it wasn't that deep last year. :?
So we continued on to the next place that we usually stop at.....the rockslide. This just happened last year when we were getting LOTS of rain and slides were popping up all over the place. A large section of the mountain gave way and stopped just short of taking out the trail. You can see the edge of the drop-off in the lower left corner.
It's one of those things that a pic' doesn't do justice for, but here are a couple more. The rocks you're seeing are HUGE boulders.
The two little bitty white spots are openings in the trees and you are seeing interstate I-40......cars and trucks are wizzing by on the interstate but you can't really tell from the pic'.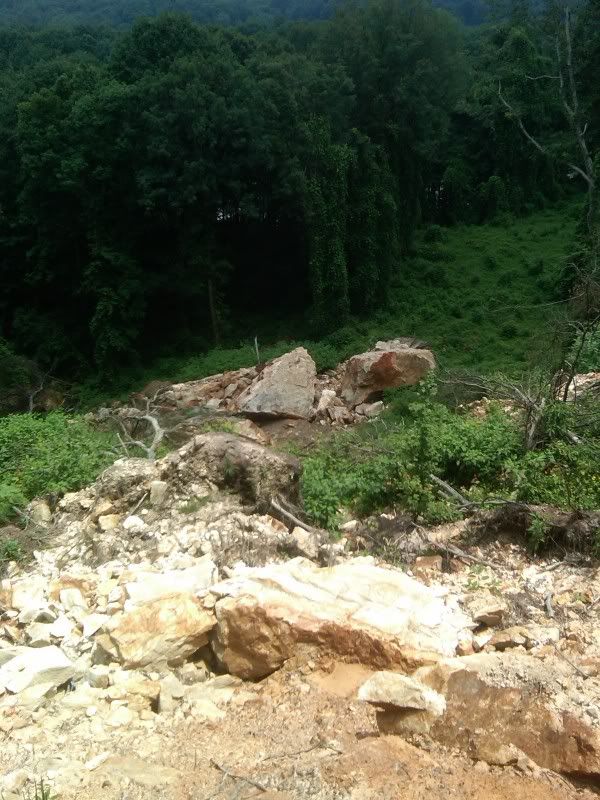 You can see the super Walmart in the background.
So we continued on to the next stop.....the powerlines (our usual lunch spot
).
Man, it was HOT here today. About 93 for the high, but the humidity was unreal.....the heat index hit 100 in many places.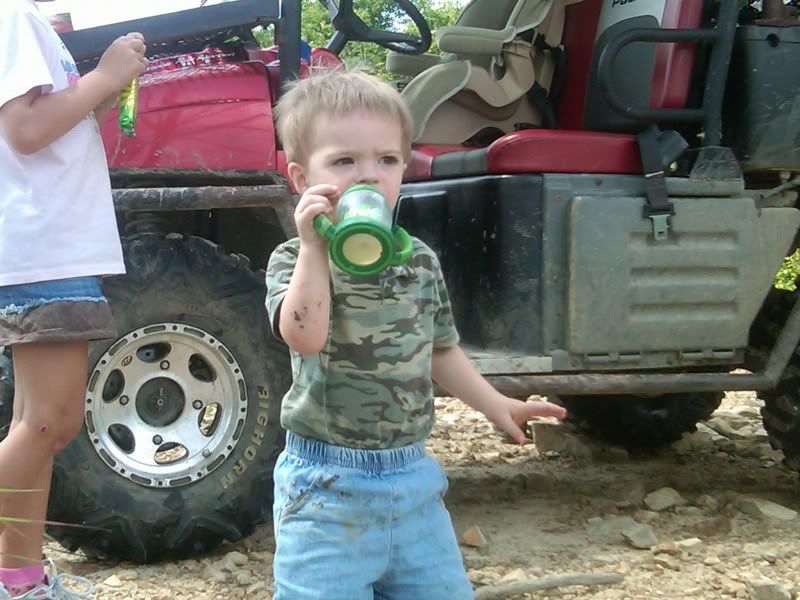 So, right before we were going to leave, I decided to walk a few yards off of the trail to a looking rock for a better view. Of course, the girls had to follow. I was already sitting on top of the rock and as the girls approached I heard a distinctive buzzing that I recognized immediately.....a rattlesnake :shock: . I had them freeze until I could locate the source. It was about a 3' to 3 1/2' timber rattler and I had already walked right over top of the crevice he was hiding in
.
I was working my way back up the trail, trying to avoid briars, rocks and.......oh yeah, getting bit :lol:! But this is about as close as the camera woman was letting me get.....she was backing up the entire time I was approaching :lol:.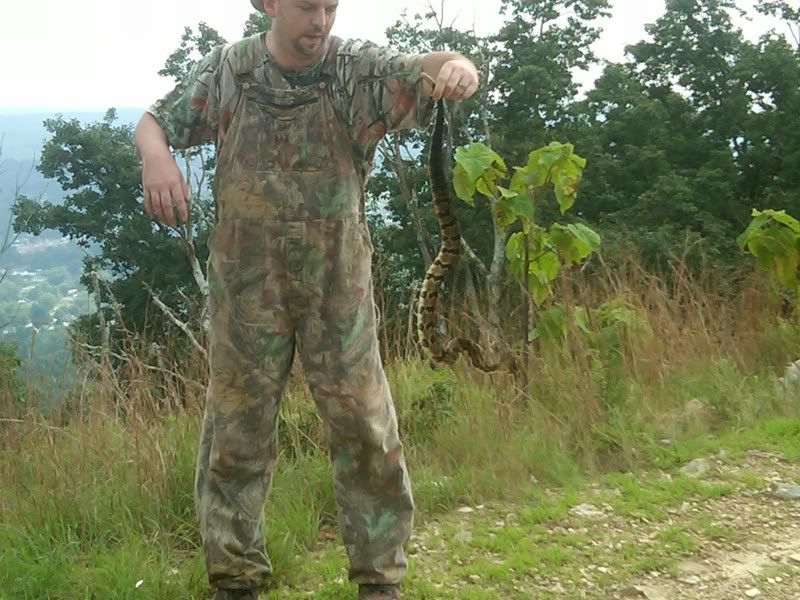 So that was pretty much the end of the ride for the day. They were ready to go home after that :lol: . Plus it was miserably hot, so I wasn't about to argue.
Just a reminder when you're out in the woods in the summer time.....be careful when you venture off of the trail. This was only 30 yards or less from where we parked. Here are pic's of another one on a different ride a couple of years ago. We had stopped at Caryville overlook and Olivia had to go potty. Luckily I went with her because the weeds were tall. It was a pretty cool day....only about 55 degrees, so I wasn't expecting to see a snake. But when I stomped down the weeds so she could do her business, I put my foot right on this guy.
I mean I literally put my foot on him. It never rattled until after I picked it up and walked 30 or 40 yards back to the Ranger with it.
Olivia was amazed by it's rattling.
Moral of the story?....watch where you squat in snake country. :lol: