Discussion Starter
·
#1
·
Polaris: Repairing broken diff' brackets on '05 -'06 Rangers.
By: commanderjjones (Jerry)
______________________________________________________
I know I'm not the only one that's had this happen and have been asked about it before, so I thought I'd try to warn and/or help others.
This applies to '05 and '06 Rangers with IRS. In early '07, there was a change to a diff' that mounted differently.....but an early '07 could still have this type shown and is susceptible to the same issue. If your mounting brackets look like this, it pertains to yours. But keep in mind this is not a widespread issue. Mainly the ones with problems were ones running modified engines, using them roughly, or hauling heavy loads.
This is typically what happens, although it will usually begin with just a bend and then develop into a crack before finally breaking an ear off. That allows the diff' to twist and cause your E-brake to bind up under a load......possibly causing E-brake wear/heat issues and even breaking a drive shaft (don't ask me how I know :roll: ).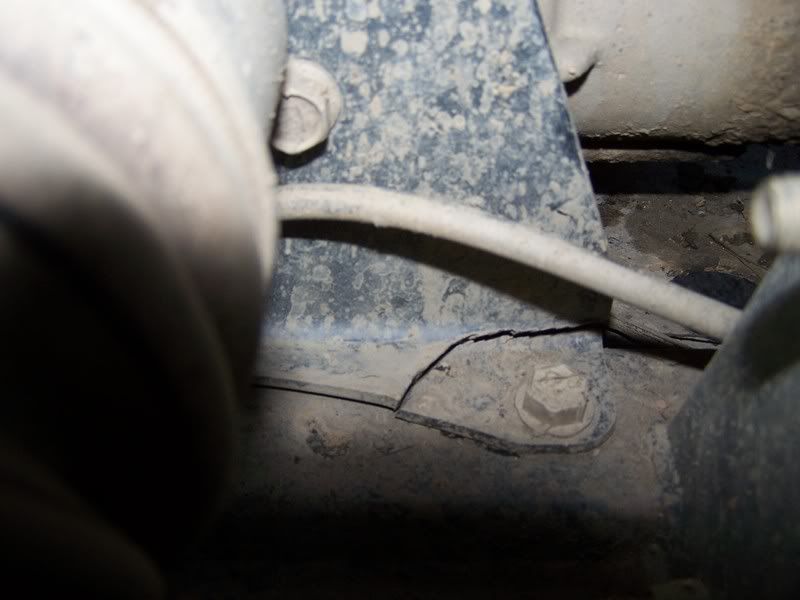 I had already modified mine once (the pic' above was before the mod'), but I put a new diff' in a few months ago and didn't swap over my modified brackets. After only about 3 rides (probably 12 to 15 hours), the new brackets already looked like this.
The pic' may not show it well, but this distortion is the first stage of the problem.
As soon as I noticed it, I quickly swapped my old (modified) brackets over to the new diff'. After many, many more rides, those finally started to develop a crack. So this time, instead of using 3/16" material to beef it up, I'm using 1/4" thick material. On the original mod', I put the material
under
the bracket. The problem was that lifts the diff' up a little and causes a slight drive shaft misalignment. So this time, I'm adding the material to the
top
of the brackets....which will keep the drive shaft angle straight.
The brackets are 8 1/2" long at the bottom, so I started with a couple of pieces of 1.5" x 1.5" x 1/4" thick angle that are 9" long. That allows for a little bit of "meat" to weld to. To straighten out the deformation that had already occurred, I sandwiched the bracket between those 2 pieces of angle (see pic' below) and put them in a press. If you don't have a press, hammer away! :lol:
After getting the brackets straight, we're ready to start the good stuff. Use a plasma cutter (or torch) to cut a notch as shown below that allows clearance for the diff' bolt. You'll have to cut one notch on each bracket. I also cut an angle on each end of the brace to better follow the line of the original bracket.
Clean all of the paint off in prep' to weld. Here's a pic' of the bottom side.
If you still have some minor fit imperfections (everything is not flush), just apply a few clamps in the proper locations before tacking it together, and then weld it all up.
And the bottom side.......
If you did a good job on your welding, your grinding on the bottom will be minimal. Make sure it's nice and flat on the bottom since that surface will be mating to the frame. Then use the existing holes to drill your new ones. The mounting bolts are 3/8", so I used a 3/8" bit....anticipating a very minor misalignment that I'll correct with a 13/32" bit when I install the diff'.
Grind with a high speed sander and 50 grit disc to remove any slag and old paint.
Sand with a dual action sander and 80 grit (just because I'm anal) and you're ready to clean, prime, and paint. Here's the right side ready to paint......
And here's the left side......
And the finished product.....
Only time will tell if these last longer......but the last ones made of thinner material lasted about 300 hours. So if these go 400 hours, I'm good with that. :wink:
I hope this helps somebody.
Jerry
___________________________
Thanks
to 'commanderjjones' (Jerry) for this
excellent
write-up !