·
SSW Rally/Event Director
Discussion Starter
·
#1
·
I got the girls their first guns for Christmas.......a Red Ryder BB gun and a Rossi .22 / .410 combo. Yesteray was the first nice day that we've had in a while, so I decided to take them shooting. Unfortunately, we couldn't use the Ranger since there was 7 of us (also took the niece and nephew).....so we headed up the mountain in the minivan which I have dubbed the "Field & Stream" (not Town & Country :lol: ) off-road vehicle.
We found a hollow with a nice flat bottom near the trailhead of one of my riding spots and set up a couple of portable tables. The first 2 to 3 hours were spent covering gun safety and how to handle the 3 different type of weapons that we were using today.
Although we've been over it several times, my girls are still relatively new to shooting and I felt a refresher course was in order. Also, my niece and nephew have
never
shot or handled a gun before this, so I was glad that they had the opportunity to go with us because their parents aren't the "outdoorsy" type and they would probably never had exposure to this. I try to take them with us whenever possible because they really seem to love the outdoors.....especially riding in the Ranger.
After covering the safe handling and operation of the BB gun, a breech loading single shot, and a .22 semi-auto, it was time to do some shooting. We started with the BB gun and my girls were on target right off the bat
.
Not to be outdone by the youngsters, it didn't take long before the niece and nephew were hitting the bullseye (or close to it) as well 8).
After that, we proceeded to the single shot and then onto the semi-auto.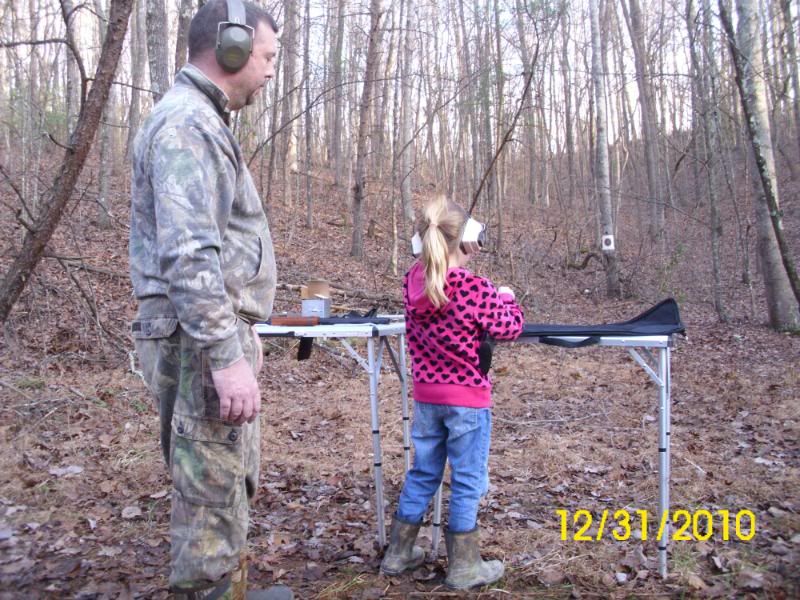 They all paid close attention, handled the guns safely, and shot well. I'm proud of them all and we had a ton of fun
.